How does DogWatch compare to Invisible Fence?
One of the most common questions we hear is how we compare to Invisible Fence. DogWatch hidden fence products have many advantages over Invisible Fence that our customers love. We give you as many choices as possible so you can make the right decisions for your dog. Read on to learn about how DogWatch compares to Invisible Fence.
Once you have a hidden fence installed, the main ongoing cost is batteries for your dog's receiver collar. One of the most significant differences between DogWatch and Invisible Fence products is the receiver battery life. DogWatch batteries last much longer, saving you money and hassle over time. Unlike Invisible Fence, our batteries are standard sizes so you can buy them from us or elsewhere.
Click Here for a battery comparison over 10 years. This applies to the DogWatch R9 receiver, which uses a battery that lasts 2 years. Our smaller R7M receiver uses a battery that lasts 6-9 months, which is still double or triple the battery life of an Invisible Fence receiver.
DogWatch transmitters and receivers are user-adjustable and very easy to use. Unlike Invisible Fence products, homeowners can change any setting that a DogWatch dealer can. We'll teach you how to make adjustments or walk you through it over the phone.
Because you have the power to change your dog's correction level, you can train your own dog with a DogWatch hidden fence. Training starts at a low level to get your dog accustomed to his new boundary, and then you move up to the level that will keep him in the yard.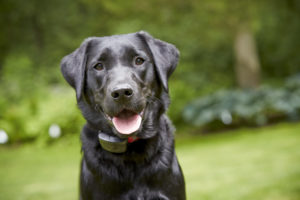 FM SafeLink Digital Signal
DogWatch uses FM digital signal in our hidden fences, while Invisible Fence and all other dog fence brands use AM signal. The FM signal is less prone to unintended corrections and allows for longer receiver battery life.
With a DogWatch hidden fence system, the dog receives a correction when he is a certain distance from the buried wire, called a Distance Based Reaction. With Invisible Fence, the correction is Time Based - a certain amount of time after he reaches the wire, he receives a correction. A Distance Based Reaction is safer and more consistent for the dog because it doesn't matter how fast the dog is moving.
Consumers Digest Best Buy
---
DogWatch hidden fences have been awarded the title of a Consumers Digest Best Buy in the underground pet-containment industry. We are the only underground pet-containment with a "Premium Selection" designation. Best Buys are selected based on features, warranty and a company's reputation for quality.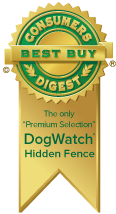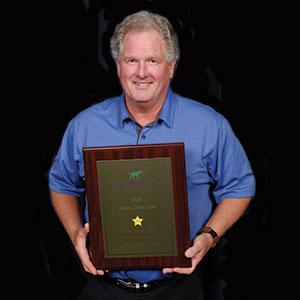 Independent Dealer
DogWatch of the Twin Cities is an independent DogWatch dealer. Guy Treanor has owned the small, local company for 27 years and has just one employee - his daughter Afton. They work out of Eden Prairie and serve the entire Twin Cities metro.
Contact Us to schedule an in-yard estimate and learn about containing your dog with a DogWatch hidden fence.
Contact Us