Hidden Fence Installation in the Winter Months
No matter the season, you don't need to chase your dog around the neighborhood. If you're ready for a DogWatch hidden fence, but the ground is frozen and snow-covered, we can still contain your dog with a winter installation. The process is slightly different, but the result is the same - a safely contained dog.
In the winter we hook up the transmitter in your garage, secure the wire across your driveway, put up flags and start the training process with your dog just like we do the rest of the year. The system is completely up and running, and within about 4 days your dog knows the boundaries. The only difference is that we lay the wire above ground in the yard. It settles underneath snow and ice and stays secure until it can be buried.
At the first opportunity in the spring, we come back and bury the wire in the ground. There is no additional cost for this second visit, and it doesn't take more than a couple hours.
If you're interested in getting a DogWatch dog fence this winter, get in touch with us for a free in-yard estimate. Our sales associate will come to your house for 30-45 minutes to go over the details with you. We'll start with a walk around your yard to discuss where the dog's boundaries should be. Then we will show you our products and explain how the system works and give you a no-obligation written estimate.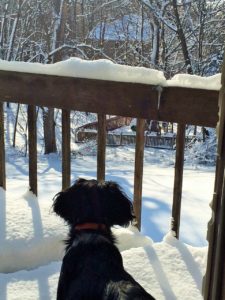 To learn more about winter dog fence installation, Contact Us to schedule a free in-yard estimate.